RIONI Signature Brown Large Luggage ST-20121L





Click to enlarge image(s)
Signature Brown Large Luggage (Rioni Manhattan 65)
R
ioni Signature Brown Large Luggage -
Gentle dark gold ''RR'' RIONI monogram print on solid brown designer canvas body. Leather handles, trim and brass plated hardware. Four wheel design makes it easy to roll this luggage in all directions. Front upper and lower zipper pockets. Horizontal zipper entrance opening. Interior cover has a side mesh zipper pocket, zipper pouch pocket, and padded computer compartment with secure strap. Rear zipper pocket. Coffee brown RIONI monogram lining.
Super Shopper Outlet Stores
hopes you will delight in the largest discount selection of Rioni designer handbags, purses, wallets, totes, luggage, and backpacks at near wholesale prices--just ask and you'll receive. Rioni's attention to quality guides every aspect of the company's business model. The identity of its brand is rigorously defended with their designers and craftsmen being continually challenged to be driven by the mainstay of tradition along with an ongoing process of re-invention and innovation. Rioni methodically monitors product design and production in order to insure unyielding quality. The result is an exclusive relationship between each customer, the personality of the product, and the brand as a whole.
Signature (Brown) - Large Luggage

Style Number: ST-20121L
Weight before packaging: 15.25 lbs.
Dimensions: L18 x W10.5 x H29.5"
Drop Length: 11" Rail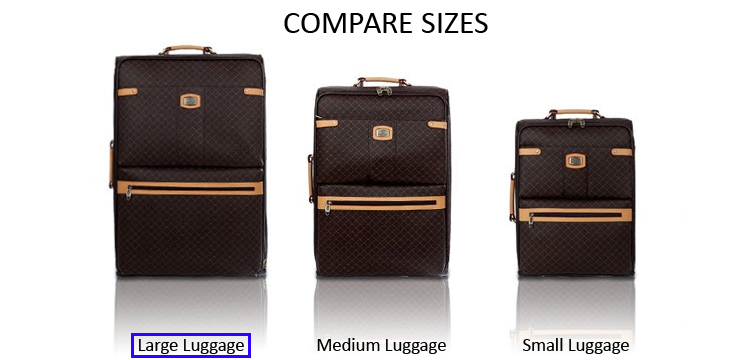 Please allow 3-5 days handling before shipping.