Jimmy Crystal Designer Sunglasses
Jimmy Crystal New York "Beyonce" Sunglasses
-Turquoise Lenses with Swarovski Crystals and UV400 Protection
-Color: Light Turquoise with Light Blue theme crystals
-Jimmy Crystal GL1451 Turquoise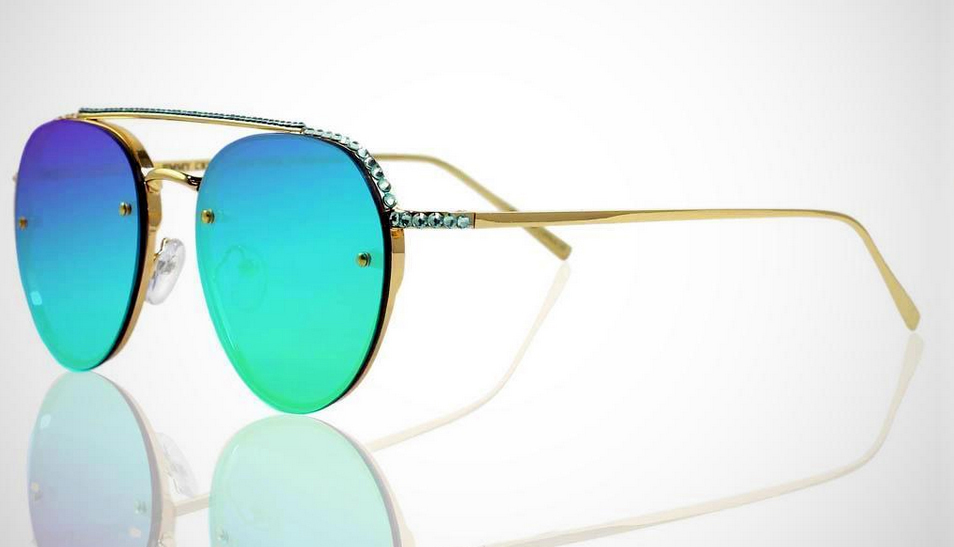 Image and text made larger to also serve our patrons who shop with their mobile phones.
Super Shopper Outlet Stores proudly provides brilliant Jimmy Crystal Sunglasses that are design driven and hand-made in New York City for more than 28 years. These designer sunglasses are stunning one-of-a-kind designs that are liberally ornamented with Swarovski Crystals.

All that GLITTERS!!! If it's fashion that gleams, it's JIMMY CRYSTAL -- unique collectibles and fashionable accessories to wear and to own. All sparkling with the sophistication of crystallized Swarovski Crystal Elements. JIMMY CRYSTAL discount sunglasses raise style to an art...and reflects beautifully on you.

Jimmy Crystal Sunglasses: Enjoy Polarized Lenses and/or UV 400 Protection among our selections with complete UVA UVB eye protection. Jimmy Crystal Eyewear is both fashion eyewear and protective eyewear in one. Our sunglasses offer great eye protection against ultraviolet rays, while maintaining their reputation of being great fashion accessories that allow each individual to show off their personality and style. A UV coating is applied on our lenses to filter out UV rays. One may ask, what is UV light or its effects? The sun's rays affect both the inside and outside of the eye, contributing to serious eye problems like cataracts, macular degeneration, and burns on the eye. To guarantee the best eye protection, our sunglasses filter out UVA and UVB rays.

PRODUCT DETAILS
Features stunning Swarovski crystals, which are hand set by Jimmy Crystal's expert craftsmen. Our sunglasses provide unparalleled aesthetics that exude elegance. Enjoy state of the art Polycarbonate lenses that use the most impact-resistant material available for sunglasses which offer maximum eye protection.
Jimmy Crystal Fashion Designs...
The Jimmy Crystal brand has taken the fashion world by storm and can be found in some of the most chic stores and boutiques around the globe. In addition to finding the sparkling label at all of our Super Shopper shopping mall locations, even the world renowned Bloomingdales department store carries the same Jimmy Crystal Sunglasses and Jimmy Crystal Reading Glasses with pride.
We really like to reward our customers for their patronage and offer our luxurious Jimmy Crystal Eyeglass Frames at near wholesale prices...UV sunglasses that everyone can afford. Free sunglasses accessory: refer a new customer and we'll reward a free sunglasses designer hard case to you on your next order of a sunglass with us. Should any customer find themselves shopping for an item not listed in our online store--just ask and we guarantee to offer it for less than any other authorized seller!
We promote this signature brand that has attracted some of the most stylish individuals and iconic celebrities to the Jimmy Crystal New York label. Some high profile Jimmy Crystal enthusiasts include Miss Universe, Miss America, and Miss Teen USA, as well as high profile celebrities such as Lady Gaga, Elton John, Kylie Kristen Jenner, Kieza, Daisha, Angela Bellote, Frankie Grande, Wendy Williams, Francis Fisher, Naturi Naughton, Stephanie Carcache, Paula Deen, Snooki, Derek J., Mira Sorvino, Khalil Kain, Sheryl Lee Ralph, Coco Austin, and Jazz Villa to name a few...
The Jimmy Crystal name is synonymous with dramatic, alluring, and captivating design. Buy sunglasses with confidence knowing that each and every pair of standard Jimmy Crystal Sunglasses or custom sunglasses is created with the most stringent quality control procedures to ensure nothing but the finest Jimmy Crystal Eyeglasses for our Super Shopper Outlet Stores customers. Find the largest selection of Jimmy Crystal New York sunglasses discounted and available with UVA and UVB Protection - UV400, including many styles that are lens polarised sunglasses too.
These aren't replica sunglasses or fake sunglasses cheap that are only designer brands inspired. Whether you buy our eyeglasses with tinted optics or polarizing lenses, all of our eye wear comes with a quality warranty to assure ultimate customer satisfaction and engineering that inhibits intense glare and harmful UV light while at virtually wholesale sunglasses pricing that competes with any best buy sunglasses sale.
Enjoy our breathtakingly beautiful and glamorous Jimmy Crystal Sunglasses Swarovski Crystals equipped with a multitude of styles, colors, and aesthetic variety to please the most discerning tastes in fashion. The brilliant Swarovski jewelry Crystal elements that radiate and glimmer in our eyewear make these sun glasses true works of art and a must-have for the stand-out fashionista.
All of our Super Shopper Stores embrace the Jimmy Crystal New York brand as they set a new standard for elegance while dazzling the world. Please know that you're investing in the best womens sunglasses or mens sunglasses enjoyed alike. Whether you buy glasses online from us or our Jimmy Crystal Sunglasses eBay listings or a Super Shopper Outlet Stores super mall location near you, they are quality guaranteed. They're JIMMY CRYSTAL!
All of our Jimmy Crystal products are handmade specifically for Super Shopper by artisans at the Jimmy Crystal Headquarters in New York City. Please allow 7-14 days handling before shipping to ensure quality assurance.